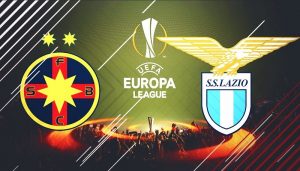 Follow the Football match between SS Lazio and FCSB on sokasmart.co.ke Who will come out on top in the battle of the managers Simone Inzaghi or Nicolae Dica?
The clash played seven days ago was the first ever head to head encounter between these two sides.
After last week's loss, Lazio bounced back with a 2-0 win against Verona on monday evening. This halted their series of winless streak which includes 4 defeats a draw.
FCSB continued their unbeaten run at the weekend as they drew 2-2 against Dinamo Bucuresti.
FCSB have now scored in every of their games this year but have only kept clean sheet once (the first leg of this game)
Lazio's defensive line has been pretty vulnerable of late allowing eight goals in last three league outings which is why we would not be shocked to see the Romanians on target here.
Luiz Felipe is suspended for Lazio after picking up a yellow card in the first leg,Felipe Anderson will hope to start on Thursday after settling for a place on the bench last time.
Team Statistics in Europe UEFA Europa League
| SS Lazio | Achievement | SC Fotbal Club FCSB SA |
| --- | --- | --- |
| 4 | Longest winning run | 3 |
| 2 | Longest losing streak | 2 |
| 5 | Longest run without loss | 4 |
| 3 | Longest run without win | 3 |
| 2 | Clean sheets | 2 |
| 3 | Matches over 2.25 goals | 4 |
| 4 | Matches under 2.25 goals | 3 |
| 6 | Matches First Half Over 0.5 | 5 |
| 1 | Matches First Half Under 0.5 | 2 |
| 4 | Matches odd | 5 |
| 3 | Matches even | 2 |
| 1.71 | Average goals scored | 1.43 |
| 1.14 | Average goals allowed | 1 |
| 1 | Failure to score | 1 |
| 1 – 3 | Biggest victory | 3 – 0 |
| 3 – 2 | Biggest defeat | 2 – 0 |
| 0 | Missed penalties | 0 |
| 0 | Penalty goals | 1 |
| 0 | Own goals | 0 |
| 0 (0%) | Goalless draw at home match | 0 (0%) |
| 0 (0%) | Goalless draw at away match | 0 (0%) |
| 2 | Comeback win | 1 |
| F. Caicedo | Top Goal Scorer | H. Gnohéré |
| F. Caicedo | Top Assist | C. Budes |