GENOA vs FIORENTINA Prediction
Genoa are looking to upset a top form Fiorentina as the  two teams will be meeting on the 29-12-2018 as per our prediction. Genoa have won one of the last 5 matches. On the other hand Fiorentina have  lost only one of  their last 5 matches.
The table below shows the position of the two teams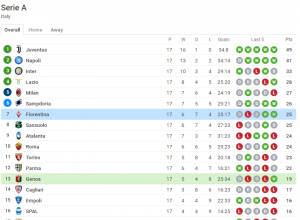 Streak
Genoa
Fiorentina
Win
4
10
Loss
10
4
Draw
10
10
Ø Goals per Match
1.1
1.5
League Table
13.
7.
form